30 August 2023
National Final of FameLab is Approaching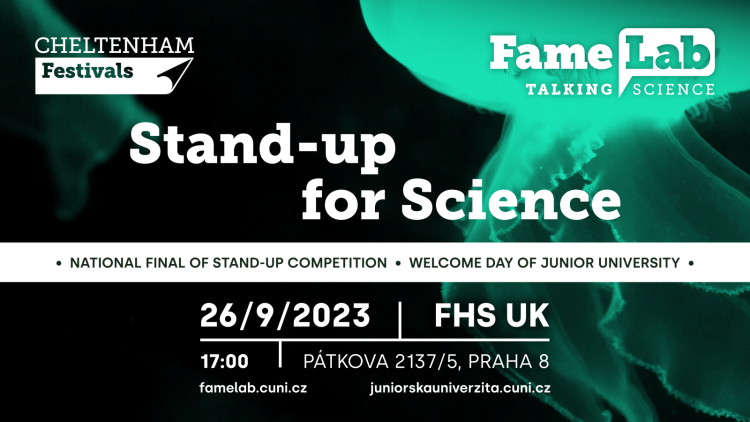 Can termite research help us obtain the elixir of youth? Can the visually impaired person succeed in the film industry? Are microplastics all around us? How does artificial intelligence learn? With what precision can weather be predicted? Does the future of medicine lie in tissue engineering?
All of this and much more can be discovered on September 26, 2023, at the national final of the FameLab competition.
This competitive scientific stand-up show will take place for the second time at Charles University and for the thirteenth time in the Czech Republic, making it one of the oldest science shows in our country. However, it certainly hasn't lost its youthful spirit, which is why we are thrilled the event will be hosted by the Faculty of Humanities, a modern and innovative institution that combines humanities with natural and medical sciences.
Come and find out if three minutes will be enough for the contestants to explain a scientific problem and simultaneously captivate the expert jury and the audience in the hall. It won´t be easy – they can rely only on their charisma and can use only the props they bring to the stage themselves.
Transportation to the event will be provided by a special bus line labeled "FameLab-Juniorská univerzita", which will run from the Nádraží Holešovice station to the Pelc Tyrolka station between 3:15 PM and 4:15 PM.
Entry to the event only through prior registration.
Poznámky
---
| | |
| --- | --- |
| 1 | In case of registration issues, please contact . |